Introducing Carveco Maker

Carveco Maker CNC Software.
Large on features. Small on price.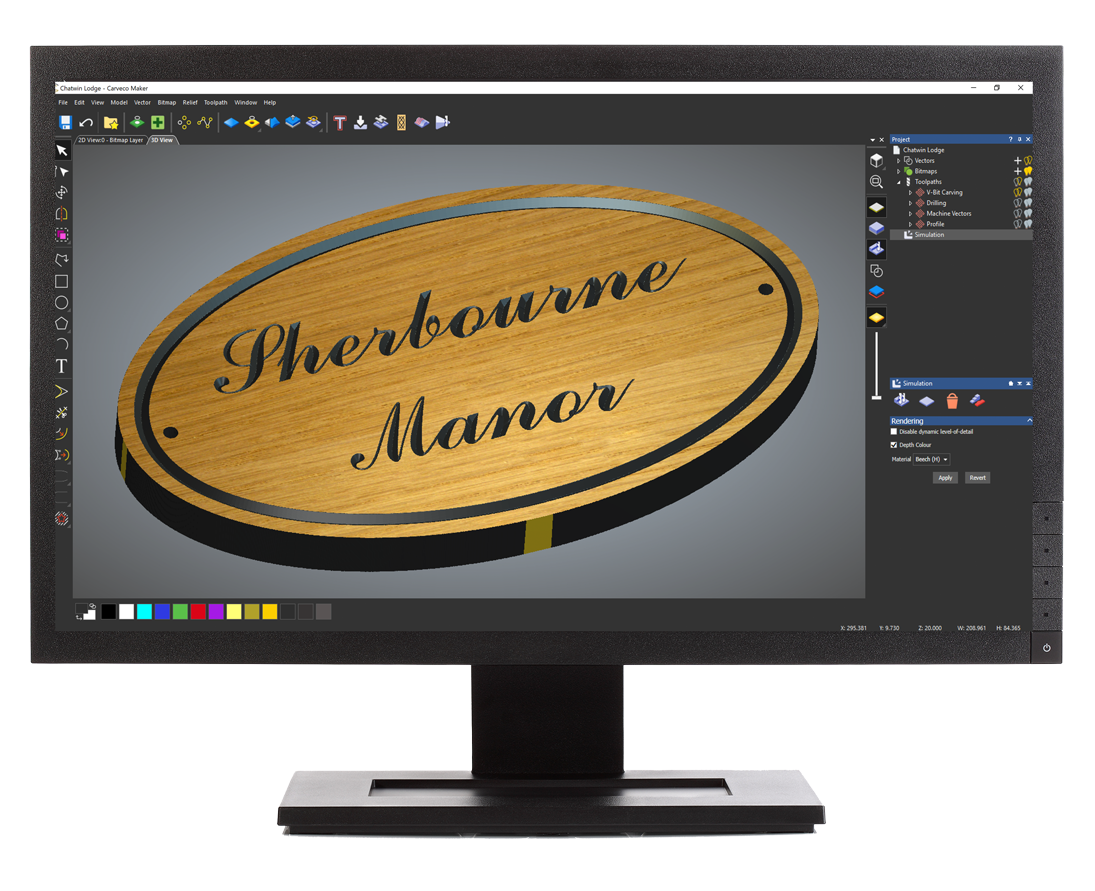 Whether you're a weekend hobbyist, setting up a new business, or entirely new to working with a CNC router or engraver, Carveco® Maker provides you with the tools to create high-quality 2D and 3D products, quickly and easily.
Maker's simple yet powerful design and manufacturing features guide you through the entire process, from conceptual sketch to finished design.
Perfect for woodworkers and sign-makers.
Why Choose Carveco

Maker

?
Simple, Intuitive 2D design Tools
Carveco® Maker's drawing tools allow you to create intricate and detailed vector designs. You are also able to bring in and automatically create vectors from 2D Bitmap images. Maker supports most common image formats including JPEG, TIFF, GIF, and BMP.
Machining Without Size Limits
Design and make on CNC's large or small. We don't impose any physical restrictions on your machine size, allowing you true freedom to produce creative work without limits.
Over 600+ Relief Clipart Models Included
With Carveco® Maker, choose a premade design from our comprehensive 3D Clipart Library (600+ downloadable relief models included at no additional cost) or import your own 3D models or reliefs effortlessly into the software.
Powerful Machining Options
The 2D and 3D machining features within Carveco® Maker enable you to go from design to manufactured part quickly and easily. Using a customizable database of tools, speeds, feeds and machining strategies, calculate the toolpath required to machine your piece and then output to any of Carveco's 300+ supported machine tools.
Let's Work Through Some CNC Projects…
Designing a plaque
In this initial Carveco® Maker project, we guide you through the process of creating a basic plaque in preparation for machining.
23:52
Machining a plaque
In the second part of this Carveco® Maker project, learn how to machine the plaque created in part one. In the process, find out how to overcome potential machining issues and to save your work in a format compatible with your CNC machine.
39:53
V-bit Carve A Photo
Learn how to V-Carve photographs to create a visually stunning effect with very little effort. This tutorial will explain what to do and what not to do in order to get a great end result.
27:07
V-Bit Carving
In this Carveco® Maker tutorial we will show you how Maker can automatically convert imported images to smooth vectors and take a detailed walk through the V-Bit Carving Toolpath.
54.39
Create Stacked Text
In this Carveco® Maker tutorial we'll show you how to design and machine stacked text within Carveco Maker.
39.32
Create Inlaid Text
In this tutorial we will take a look at using the Inlay Toolpath which will automate the process of editing and machining mating parts so they seamlessly fit together.
30.23
Adding & Machining Textures
Building on our previous 'Stacked Text' project, we take a look at adding and machining a texture on the bottom of the model pocket.
19.35
Key Features of Carveco

Maker
Subscribe to Carveco Maker for
only $15 per month
Immediate access to a secure digital software download

No minimum term; cancel any time you like
Carveco
®

Maker
Monthly Subscription
$15 p/m
Flexible and affordable, subscribe to Maker month-to-month with no minimum term; cancel at any time.
Subscribe to Maker
Black Friday Special
12-Month Carveco
®

Maker Subscription
$90
Save $90 on a 12-month Maker subscription. Subscription reverts to a standard monthly recurring payment after 12 months.
Subscribe to Maker