Operating System

Microsoft Windows 8.1 64-bit
Microsoft Windows 10 64-bit

CPU 
64-bit single- or multi-core Intel® or AMD® processor with SSE2 technology

Highest affordable CPU speed rating recommended

Memory
8 GB RAM (16 GB RAM recommended)
Display Resolution
1280 x 1024 (1920 x 1200 or higher recommended) with True Color
Graphics Card
2 GB RAM, OpenGL® 4.0 compliant and DirectX® 11 compliant.
Disk Space
Installation 5 GB free disk space
Pointing Device
MS-Mouse, 3Dconnexion SpaceMouse® or Wacom® tablet
Graphics Cards
To get the best experience from your investment in Carveco, we strongly recommend investing in a good quality GPU. More GPU cores equal better performance for Carveco and we recommend a GPU with at least 512 cores.
Carveco Suitability Check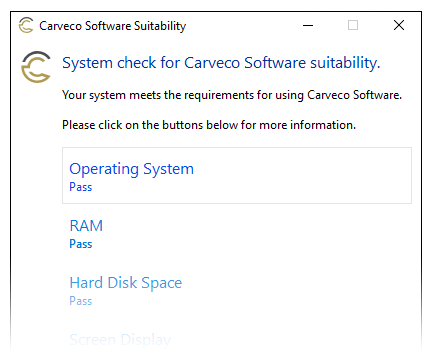 Ensure your PC meets the recommended system requirements for running Carveco by downloading the Carveco Suitability test program.
This small executable runs through a quick benchmark of your system hardware (CPU, RAM, Graphics etc…) to minimize the chance of any problems you may encounter running Carveco software .