Carveco Release Notes
Here at Carveco, we take the Continuous Delivery approach to software development. This means that we aim to develop and release regular updates, enhancements, new features and bug fixes as soon as they're tested and ready – for every Carveco product.
All our work on each software update we release is outlined below.
Carveco v1.42 –  25, May 2023
New
ONEFINITY POST-PROCESSORS: We now support the Onefinity Elite Series powered by their new MASSO controller. These post processors are Onefinity Elite (mm)(*.nc) and Onefinity Elite (inch)(*.nc).
We have also created new post processors for the Buildbotics controller. These are the Onefinity - BB (inch) (*.ngc) and the Onefinity - BB (mm) (*.ngc).
Moving forward, please select the post-processor that corresponds with your controller.  (All variants)
CENECE POST-PROCESSOR: We've added post-processors to work with CeNeCe software. (All variants)
Enhancements
INSTANTANEOUS SVG IMPORT: You can now import large, highly detailed and intricate SVG files instantaneously, making it even faster for you to create your designs.  The video below shows how quickly you can work with a typical image size. (All variants).
FASTER TOOLPATH CALCULATION: Maximise the time spent at your computer thanks to the dramatic time savings when calculating toolpaths. You can now:

Generate a Profile toolpath, typically used to cut out your design, up to 4 times faster (All variants).
Calculate an Area Clearance toolpath, used to remove large amounts of material quickly, up to 50% faster (All variants).
Generate a Smart Engraving toolpath, used for speciality embossed effects, on average, 20% faster (Carveco only).

SIMPLIFIED SOFTWARE ACTIVATION: The Welcome screen provides clearer guidance on selecting the appropriate activation method for your Carveco software. For further activation assistance, please visit this Help Centre article. (All variants)
Fixes
TOOLPATHS: If you have multiple toolpaths that use some of the same tools, Merge Toolpaths lets you combine them to avoid unnecessary tool changes. However, when merged toolpaths were saved out using the Datron Simpl V2 (mm) (.simpl) post-processor, the tool table was often missing from the output. This has now been fixed. (Available in Maker Plus and Carveco)
(Build:2023-05-22-1520-f2bc3413)
How do i download software updates?
From Carveco 1.16 onwards (all products) we added the ability for the software to notify users of any updates that become available. Please click the link from the start page of your software to download any new releases.
Alternatively, any previous Carveco emails that contain a software download link – for example a previous update notification – will automatically direct you to the latest version available hosted on sendowl.com (our software fulfilment provider).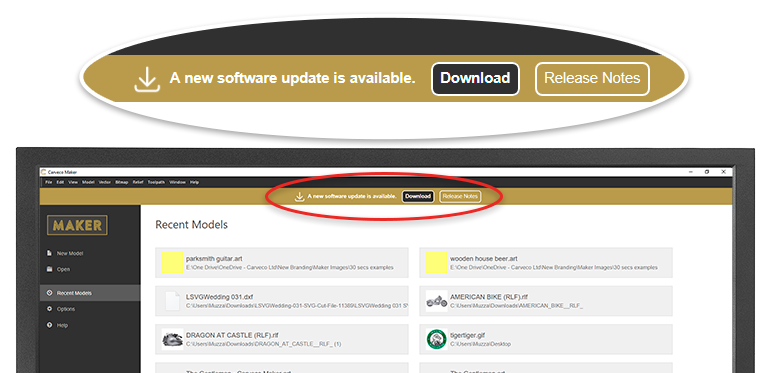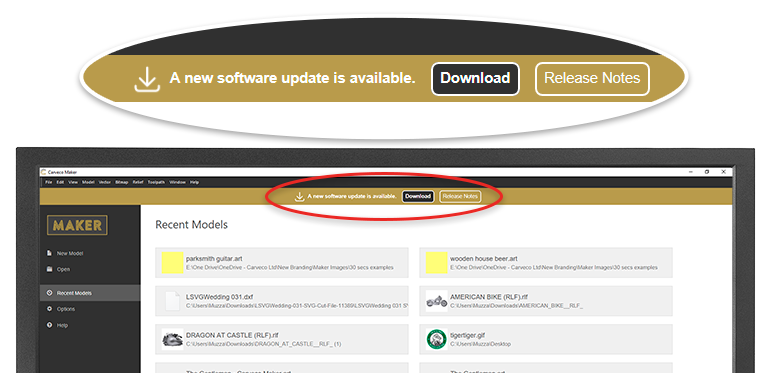 I've missed a few updates… Do I need to go back and install each one?
Don't worry – regardless of whether you're upgrading from a much older version, or the previous release, you only need to install the latest update to ensure your Carveco product is up to date. Additionally, your unique SendOwl download link (even from previous emails) will always show you the most recent Carveco update available.