Carveco Release Notes
Here at Carveco, we take the Continuous Delivery approach to software development. This means that we aim to develop and release regular updates, enhancements, new features and bug fixes as soon as they're tested and ready – for every Carveco product.
All our work on each software update we release is outlined below.
Carveco V1.45 – Release Notes
New to Maker
Create a sense of depth to 3D designs or blend 3D reliefs together.
The Fade Relief tool allows you to dynamically fade the height of a relief. This enables you to graduate textures applied to the surface of a relief layer or blend together your imported 3D models or Relief Library Clipart. It even enables you to add a sense of depth to your design. Using interactive control points you can adjust the fade's strength, its direction as well as the type of fade such as linear and radial fades or fading between vector boundaries.
New to Maker Plus
Distort your 3D relief artwork in real time.
Imagine being able to use an existing animal relief and re-posing it by morphing its limbs or taking one of your previous designs and adapting it to suit a new project. The intuitive Envelope Distortion tool now let's you do this by distorting both 2D (vector) designs and 3D models for enhanced live modelling. The tool enables you to create truly unique effects, organically and in real-time using nodes, vectors and bezier curves.
New to all variants
We've made it even easier to find and use our 2D and 3D view shortcuts. Each with their own tab, you can quickly learn how to speed up actions such as zooming in and out for example. These can be found in the Help > Shortcuts dialog.
Enhancements
Improved shortcut readability (All variants)
We have added new mouse icons to the Help > Shortcuts dialog to improve readability when following shortcuts. These replace mouse actions such as left-click, right-click, and mouse drag. (All variants)
Dedicated FoxAlien post-processors (All variants)
We have made it even easier to find the correct post processor for your FoxAlien CNC machine by creating their own dedicated post-processor. FoxAlien (inch) (*.gcode) and FoxAlien (mm) (*.gcode) post processors are available to select in the Save Toolpaths dialog.
Fixes
Drill banks: Carveco software now not only ensures that only valid values are entered when you create your advanced Drill bank configurations, but also provides details on how to correct them to prevent any crashes. (Maker+ and Carveco only)
Vector and Relief Library thumbnails: These now appear when your library is hosted on a network drive. (All variants)
How do i download software updates?
From Carveco 1.16 onwards (all products) we added the ability for the software to notify users of any updates that become available. Please click the link from the start page of your software to download any new releases.
Alternatively, any previous Carveco emails that contain a software download link – for example a previous update notification – will automatically direct you to the latest version available hosted on sendowl.com (our software fulfilment provider).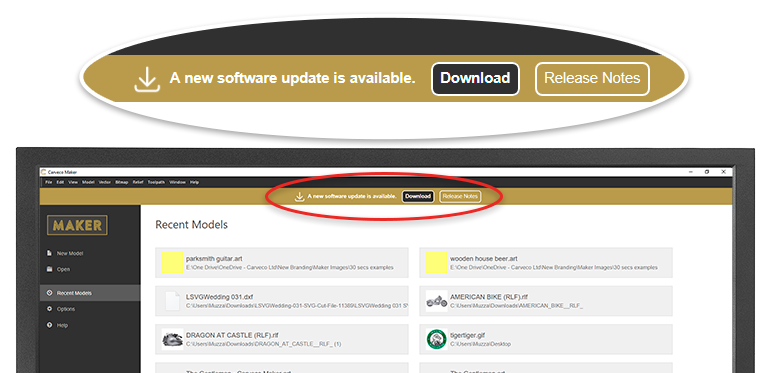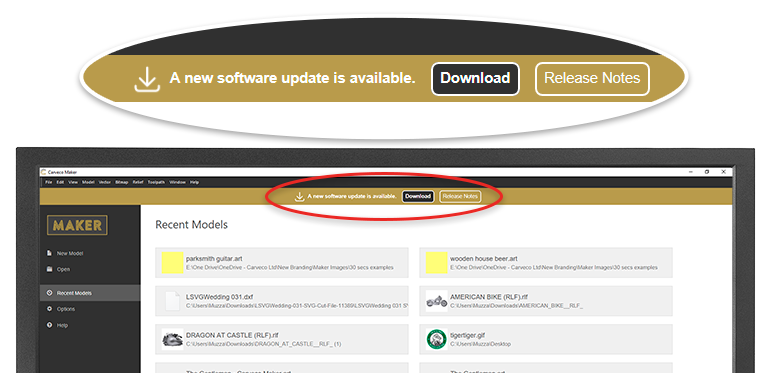 I've missed a few updates… Do I need to go back and install each one?
Don't worry – regardless of whether you're upgrading from a much older version, or the previous release, you only need to install the latest update to ensure your Carveco product is up to date. Additionally, your unique SendOwl download link (even from previous emails) will always show you the most recent Carveco update available.