Enhancements:
New posts available:
Flashcut Toolchange (inch) (*.fgc)
Tormach (*.ncc)
Fixes
Sliders on the Tool Settings pane no longer create excessive undo checkpoints within the Shape Editor, 3D Blend, Smooth Relief and Fade Relief tools.
In the Tool Database window, when selecting a tool from another database using the Browse… button, that database is preserved as the selected database the next time the Tool Database window is opened.
The activation dialog no longer reappears every time the software is started if unicode characters appear in the licence details.
Redo is now available after undoing a Reset All Links or Link All Colours operation.
Removed memory leaks in Send to Relief Clipart Library.
Preview Features
A new Preview Features tab has been added to the welcome page. Preview Features (as the name suggests…) allow you to preview new functionality within Carveco and provide feedback on such functionality via our community forum.
Please be aware that any use of preview features should be performed in a safe environment.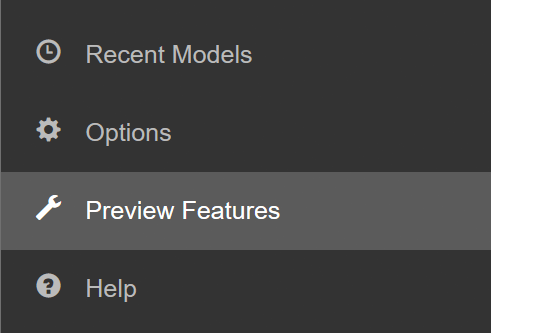 The History preview feature creates a chronological list of every operation (with the exception of toolpath calculations) performed within your working session of Carveco.
This will then allow you to revert your design back to a previously recorded state, within the recorded session history.