Following installation, when you open Carveco (Maker, Maker Plus, Carveco) for the first time you will be presented with the Activation Box (see image).
Please enter your email address and license key (this can be found in your licence email) details into the fields provided.
Click 'Activate'.
Your Carveco software should now be activated on your system.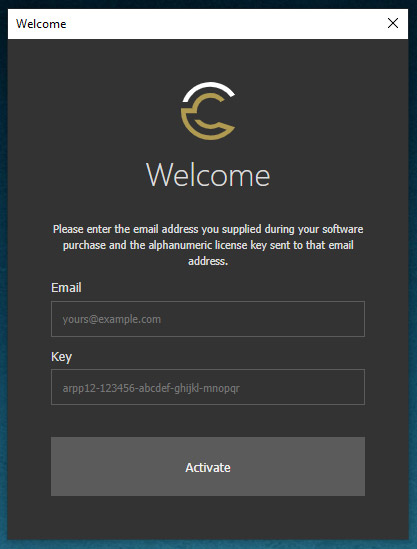 Troubleshooting
Q:Where do I find my activation key?
Your alphanumeric activation key is delivered by email via our license fulfilment partner SendOwl, from the email address Carveco via SendOwl <noreply@sendowl.com>. The subject of the email will be  Carveco license for Order US-CSXXXX (where xxxx is you unique order number).
Q: Where do I download my software? 
Your installation file is available to download immediately following the checkout process or via SendOwl. In the same email as noted above, there is a section that contains a download link to the software (hosted on SendOwl.com).
Q: The activation screen won't accept my Email Address?
Please ensure you use the email address that you used to complete your Carveco purchase. If you're unsure, please check the recipient address in any previous Carveco email, as this will be the address tied to your licence key.
Q: The activation screen won't accept my License Key?
The most common activation issue our customers encounter is the typing of an incorrect character when manually entering in your License key. We strongly recommend copying the licence key from your License email (CTRL + C) and pasting (CTRL +V) the key directly into the Key field of the activation box.
More detailed information on installing and activating your software can be found in our Getting Started guide.