Making Money From Your Hobby With Carveco Maker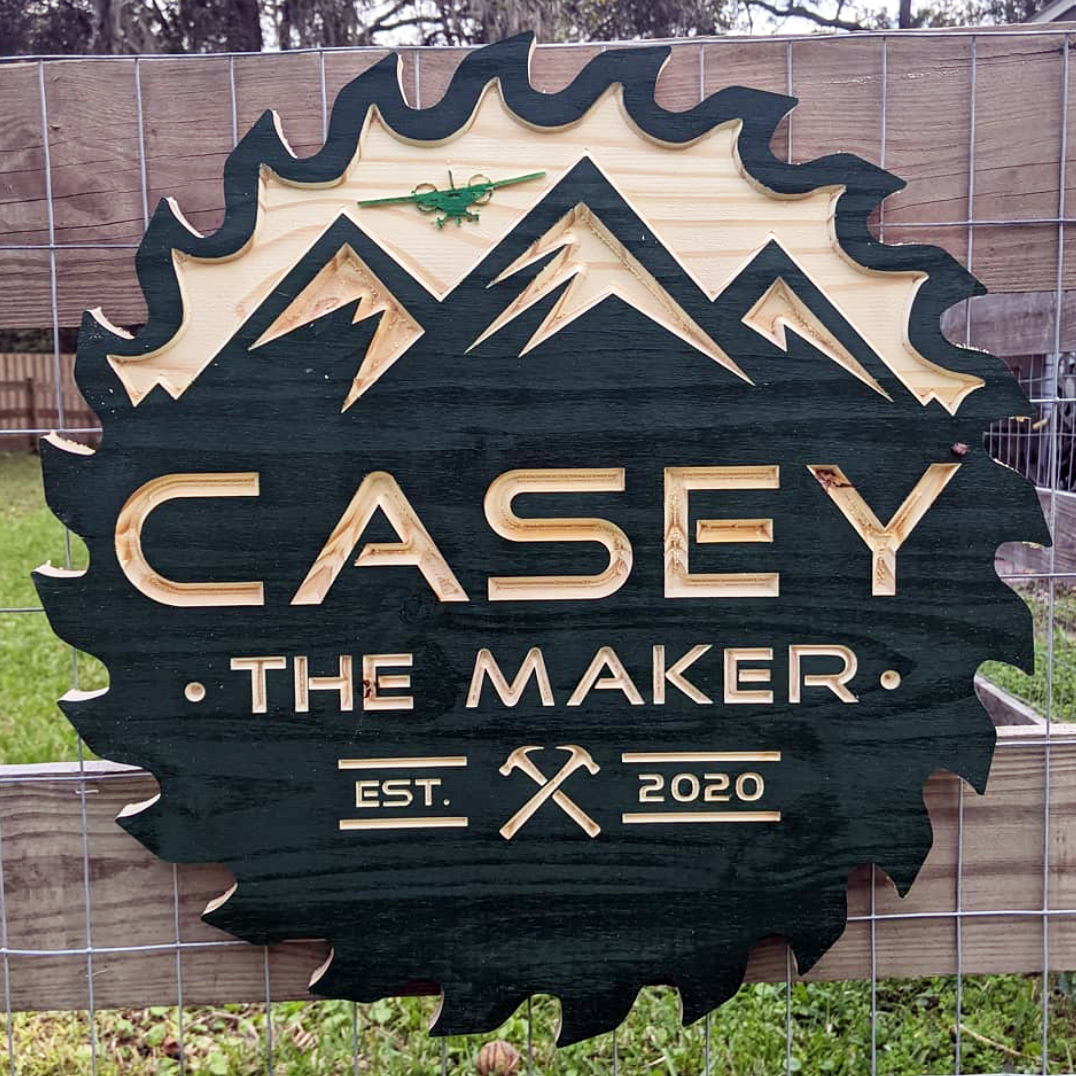 Casey Marwine is a pilot by day and a woodworking enthusiast by night. His interest in woodworking started 3-4 years ago when he realised how expensive it was to buy a good quality coffee table and decided to make his own.
Since then, Casey has continued to create many unique pieces and purchased his first CNC machine a year ago to allow him to expand on his woodworking designs…
Prior to purchasing a Carveco Maker subscription, Casey briefly used CNC software supplied with his machine. Casey explains, "The software I was using before is ok for beginners but doesn't have the same level of functionality as Carveco Maker.  Carveco software has a modern feel and for $15 to try out Maker, it was a no-brainer.  The software is very user friendly and highly intuitive.  I had no issues setting up the software.  I started with the beginner videos and went from there.  The Carveco Facebook group is also really helpful.  I am amazed by the support that you get from people that you don't even know.  With my previous software, I couldn't put text on a curve or do 3D carving and it would crash frequently.  Carveco Maker has resolved all of this for me."
One of the first pieces created with the help of Carveco Maker were the doors and drawer faces for his vanity unit made from Guanacaste (also known as Parota) wood.  Casey comments, "There was no way I could have done it without the CNC, as the jigsaw wouldn't have been as accurate.  I created the vanity unit in two parts.  I machined one side, and then flipped it around due to the size of my CNC machine."
His 'Hydeaway' sign was the second piece that he made, but the first he designed himself. Importing Carveco's free relief clipart into his design, he was able to paste, resize and move them around to create the desired scene.  Before machining the sign, he carried out small test cuts to make sure his design would work.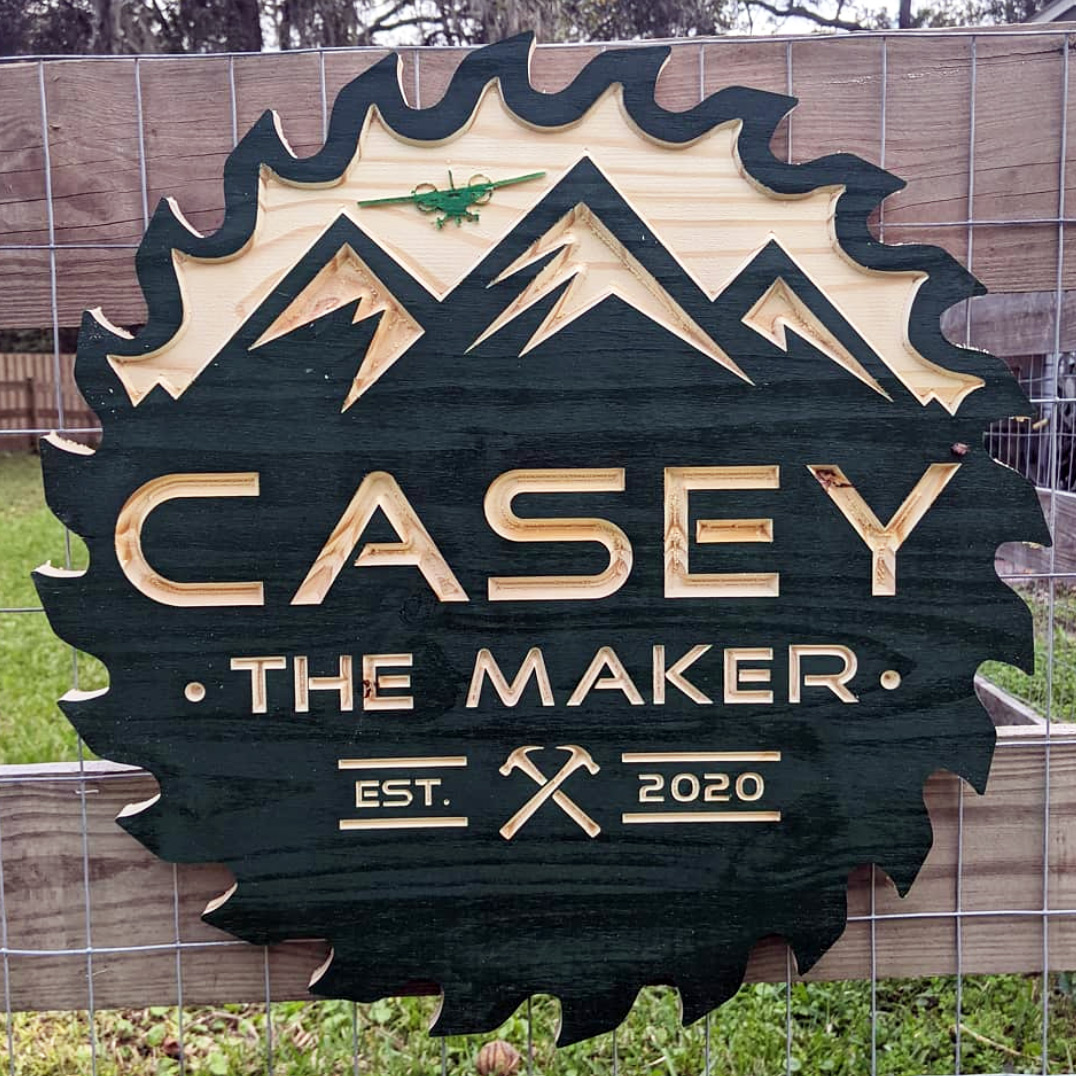 "I don't know any other software anywhere else that allows you to bring in so many 3D models and work with them.  At the price point of Carveco Maker, being able to do that is really awesome.  Doing the 3D stuff with it is huge.  Creating 3D scenes in it has really allowed me to up my game.  You can obviously do more in Maker Plus, such as using the Cookie Cutter tool to create the relief that you want."
Casey has gone on to design and make a stunning bench/cabinet in cherry wood with walnut flower inlays in the top and sides to cleverly hide some wood knots, as well as a range of pieces including a charcuterie board, a cutting board, children's stools and his favourite 'Brown Wrestling' sign.
Since making his move to Carveco Maker, his woodworking hobby has thrived.  Casey frequently shares his new designs on Instagram and people who he hasn't seen or spoken to in a while ask him if he can make something for them.  Seeing the opportunity to make money from a hobby, Casey now takes on requests for custom designs and uses Google, Instagram and Etsy to get inspiration.
"CNC has really opened up a new world for me.  Doing it as a hobby allows me to be selective as to the work that I do and I keep it to custom woodwork…"
Through selling his signs, Casey has been allowed to buy new machines and is already thinking about how he can get a bigger CNC in his garage. He continues, "If I wanted it as a business, I could definitely have it. I am becoming increasingly more efficient with it every time I make something with it. I can produce something faster than I could before."
Casey has been so happy with his purchase of Carveco Maker, he has now upgraded to Carveco Maker Plus to be able to do even more 3D design.