Full Steam Designs with Carveco Maker
Chris from Full Steam Designs is a machinist by trade but has been doing woodworking side projects for the past four years. However, it wasn't until he added a CNC machine to the array of tools in his workshop that things really started to "kick-off" for him.
For the past three and a half years, Chris would finish a nightshift and go straight onto his Shapeoko CNC machine. Despite being familiar with Fusion 360 for designing furniture and other CNC software, Chris found creating toolpaths painful and looked for a more advanced CADCAM software.
After researching into woodworking programmes, he learnt about Carveco, the leading 3D design and manufacturing software, but unfortunately it was out of his price range. It was then that a friend told him about Carveco Maker, the introductory software for hobbyists.
Chris comments, "It reminds me of Photoshop. Carveco Maker has a modern feel which adds to the whole experience. It's hard to be creative in other software as the interfaces are bland. In Carveco Maker, I can just jump into stuff, and it doesn't fight me. It has an improved workflow and faster, more efficient toolpaths; it just makes more sense. It is designed by people that are really doing this. It sped things up and I can push my CNC to its limits. The renderings also look great, which helps when you are creating."
Chris makes a range of unique pieces from furniture, 3D signs and plaques to cars using a mix of traditional hand-building techniques, 3D printing, laser and CNC machining in wood, plastic and metal. Whilst Chris was becoming proficient in Carveco Maker, he continued to make some pieces by hand, such as his stunning aluminium aviation desk.  Whilst this was mostly hand-built, he used Carveco Maker to cut the aluminium brackets that would act as the hinge for its keyboard tray.  "The other software didn't have ramping moves which Carveco Maker does.  This helps improve the finish and avoids braking machining bits", he explains.
Despite making so many detailed and intricate pieces now with Carveco Maker, Chris's favourite piece is still his hexagon desk with adjustable height that he uses for his office. For this he used the software to cut out the hexagon pattern which was then filled with epoxy resin. This only took a couple of hours on his CNC machine, despite the epoxy creating a lot of static electricity that interfered with his CNC machine, causing it to overheat. The desk was complete within a week (whilst Chris also worked on a car that he was building) and provided a finish that could not be accomplished by hand.
Since starting out with Carveco Maker, Chris has made a range of pieces including CNC machined 3D flags, different shapes for furniture, as well as military plaques as an ode to his time in the navy. This has proven extremely popular with the naval community in his area. These intricate 3D plaques took only a couple of hours to CNC machine, something that would have taken weeks or even months to do by hand. "Somethings don't have an alternative, especially if you want to make money on them".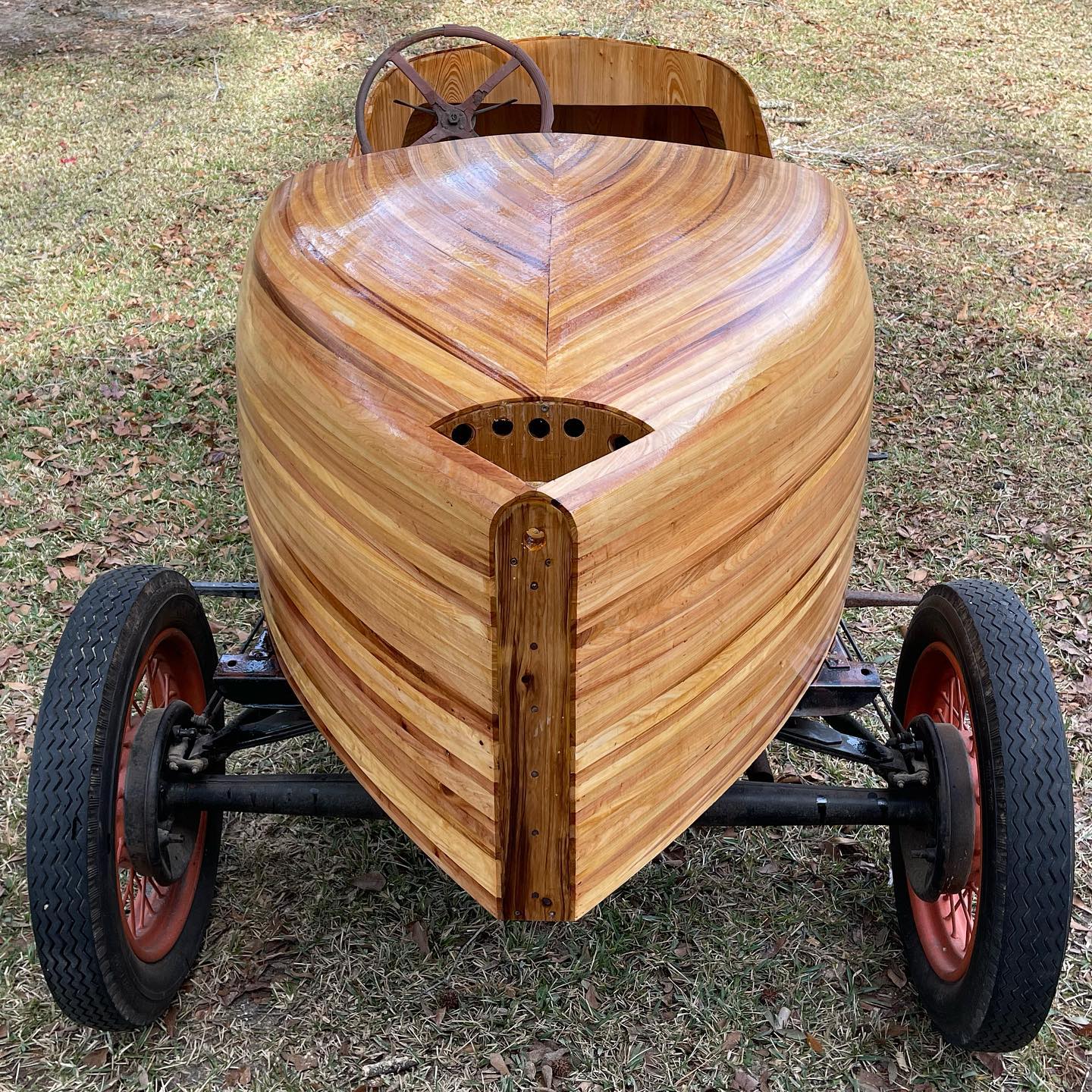 "With my previous software, I was really limited in what I could achieve. Carveco Maker has really opened up what I can do and is now my go-to CNC software. I love being able to bring STL's into the software. I also really like being able to watch the toolpath and seeing it cut in the programme whilst sanity checking that I haven't messed up. It's great at spotting mistakes for example, if the height is wrong. It is also great if you are showing a customer something; a nice 3D model makes a huge difference."
Whilst Chris now loves to focus on content creation and showcasing what can be accomplished when it comes to design, he has sold many unique and custom items including his Halloween pumpkin lanterns. Finding pictures online, he was able to quickly trace around the different areas of colour in the pictures and then created a 2D toolpath to cut out the faces. "I have used Illustrator in the past, but it is not the same, this is so much better". Each face piece was cut individually as part of a production line and an entire lantern took only 10 minutes to make. He then sold these via his local marketplace.
To support his work as a content creator, Chris attended WORKBENCHCon, where he created branded bottle opener give-aways. In his spare time, he was able to create his bottle openers using Carveco Maker in just two days. "The CNC portion was done in just a couple of hours. I would start machining and whilst it was doing that, I would trim off the bridges (break-off tabs) that I had added on the other machined pieces and sanded them before they went onto the laser machine."
Chris concludes, "Carveco Maker wasn't hard to learn, but if you need it, they are really helpful and very personable. You don't get that experience with anyone else. The Carveco Facebook group is also amazing. Some people there do amazing stuff, like Chad with his really inspiring inlays. Now when I think of something, I can make it and I can easily go back to selling stuff."